Life is What We Make It
Who is Kevin Shinn?
My name is Kevin Shinn. I am a professional educator, the Fire Chief for the City of Huntsville Arkansas and the Head Soccer Coach for Huntsville High School. More, I am blessed to be the husband of Angie, the father of Kristyn, Adam and Nikki, the grandfather of Kynadee and Kendyl, and the son of Harry and Pattie Shinn. I love my community, my state and my country and these pages reflect my views on faith, family, friends and the activities we choose to be a part of in our daily lives.
Listing Site Updates
Under one of these subheadings, it's a good idea to list recent updates to my site so that visitors, especially return visitors, can check out the new stuff first. For example, I could list the date and a brief description of the update.

I could also list updated news about my site's topic. For example, if my site were about a particular sport, I could discuss the outcome of a recent competition.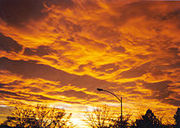 Notifying Visitors of Site Enhancements
Another idea for my home page's text is notifying visitors about the enhancements I put on my site. For example, I want visitors to sign my guestbook or fill out my survey Form E-mailer to answer questions about my site, my business, or my site's topic.
Customizing and Personalizing My Site
I might not want a large amount of text on my home page if I want to guide visitors toward my other pages. Instead of text, I can add photos or interesting links. One of the first things I would want to do is choose a template that reflects what my site is all about. Colors and themes are a great way to reinforce the message and purpose of my site
The Coming World of My Granddaughters
The world my granddaughters will grow up in will be significantly different than the one I did. Technology is not only changing how we do things, it is fundamentally transforming who we are as a nation.
My call is not to those who believe they belong to the past. My call is to those who believe in the future.
<ISML TYPE="counter" OPTION=graphic_7seg>